About Cruising
Okay, so you probably have a rough idea of what you think cruising is all about. But be prepared, because we constantly hear from our first-time cruisers that they're totally surprised once they get onboard
The cruise ships we use are some of the most innovative in the industry - they're bigger and brighter, with a lot more open spaces and private balconies. The onboard and shore side activities appeal to everyone from the rock-climber, to the sun worshiper. While some people may think cruising is expensive, a cruise holiday is actually great value and is a very smart, affordable way to travel. When you're onboard one of our cruise ships, almost everything is taken care of - your accommodation, gourmet meals in the dining rooms and cafés and snacks throughout the day. All activities including the fitness center, entertainment and Youth Programmes are all paid for. Even 24-hour room service is included. We also offer unlimited soda packages, which entitle you to unlimited soft drinks and juice. From kids to grandparents, a cruise is the perfect holiday no matter what age you are. Everyone's an explorer at heart, and a cruise holiday is a great way to see the world and explore some of the most amazing places on earth, hassle-free. Your days at sea can be packed with activites from morning till night if you want. In fact, every day onboard you're given our daily onboard schedule that outlines all the cruise activities that you can do that day and night. it helps you plan your time and also makes sure you don't miss out on anything. And when you arrive in each port, there are loads of activities and Shore & Land Excursions for you to take advantage of, if you truly want to experience the destination.
Whats Included?
Meals are included in the price of your cruise Late-night or around-the-clock dining is always available 24-hour Internet cafés are located on most ships Evening entertainment is included in your cruise price Gyms and outdoor sporing activites are found on all ships Enrichment classes and seminars are offered on both seah and port days Passengers can participate in planned shore excursions Tipping is optional on some cruise lines.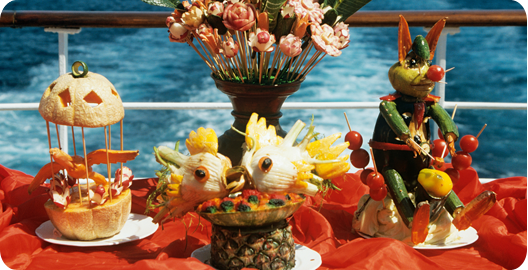 What happens on cruises
Evening entertainment, from Broadway and Vegas style Revue shows to Star Entertainer performances Onboard movie theatres, playing everything from first-run films to classic cinema Outdoor sporting events, like basketball, ping-pong & shuffleboard to more unique activities like tennis, rock climbing & golf Learn how to Scuba Dive, Parasail or Snorkel Enrichment classes and seminars, including wine-tasting seminars, fun cooking classes, computer classes, and Casino gaming instruction & various Tournaments Vast cuisine options, from low-calorie gourmet meals to midnight chocolate buffets. Various dining venues, from traditional dining rooms and alternative select restaurants (optional fee) to free room service Libraries, Games & Card rooms, & 24-hour Internet Access Internet Access right from your cabin Duty-Free shopping including special deals on World Renowned designers, fine jewellery as well as high-end cosmetics & perfume Top Cruise Tips A cruise offers more than just your standard expected experience, even featuring the excitement of gambling in a Las Vegas style casino which is hard to beat. From sports betting to poker, the cruise
Casino Games
are thoroughly entertaining and well worth a visit. for more info on Casino Games
Click Here
Be sure to contact Cruise Holidays for the best priced cruise to anywhere in the world Review your cruise documents in advance for important guidelines and travel tips Prior to flying, call the airline - or check their website for flight arrival/departure information Make sure you have your passport and other travel identification on your person - not in checked bags Be at the airport early - 2 hours or more unless local circumstances dictate allowing a longer time. New security procedures take additional time Make sure necessary medication items are with you rather than in checked luggage Lower the stress level or getting there on time by arranging a pre-cruise city package. Consider coming in a day early - especially when flying a long distance to the cruise Expect delays and longer lines - and be pleasantly surprised if they're not that bad Purchase holiday insurance. It is well worth the nominal investment Book your shore excursions as early as possible as the more popular ones tend to sell-out very early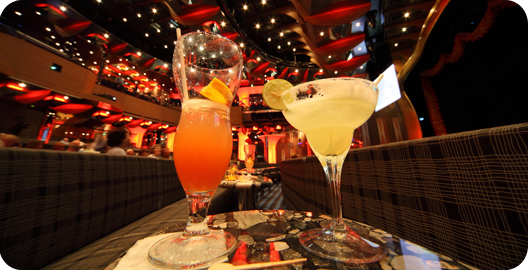 Check out the links below to find out more about cruising...