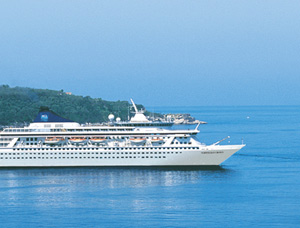 Asian Cruises
Cruise Holidays has a wonderful selection of exotic cruises, some of which sail as far as Singapore, Cambodia, Thailand & Vietnam.
Asia is a land of hidden treasures. From India to the Philippines, there are dozens of port cities, gateway to the lands of the Orient and opportunities to cruise Asia. You chance to cruise Asia is a fun and easy way to get around and explore everything that this alluring continent has to offer.
From Turkmenistan in the west to South Korea in the East, this continent is home to the plateau of the world, Tibet, and well as the ancient Hindu Kush. Countries like Pakistan and East Timor defy classification and the mix of cultures in these countries only enhance the exotic flavor.
There are a number of port cities you can depart from on your Asia luxury cruise, a good choice being Bangkok, Thailand. This city is overflowing with cultural riches, and its miles of temples and sacred structures with simply astound you. Exploring revered temples richly decorated with ornate filigree and filled with golden Buddhas await you.
The lush air and majestic scenery only enhance the feeling of awe that will overcome you as you gaze upon the façade of Wat Phra Kaeo. Immaculate paintings and brightly colored statues of Buddhist deities greet you as you enter. The building, over two hundred years old, is one of the most revered sites in Thailand, so appropriate dress is required.