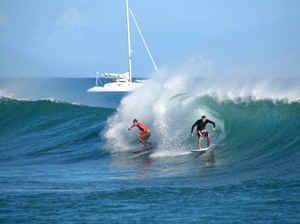 Hawaii
Introduction
Aloha, the only word you will say when you witness the amazing beautiful Hawaiian Islands. Clear seas, forest covered mountains, white sandy beaches, Hawaii is a picturesque paradise. Why not become a part of this truly tropical destination because Hawaii is in one word, a paradise.

When it comes to choosing a Hawaiian cruise holiday the selection of ports are endless. You can discover the beautiful ports of Honolulu, Hilo, Kona, Maui and many more. One thing is for sure, you will be speechless when you witness this tropical paradise.
Attractions
Water sports are huge in Hawaii with many of the world's best surfers gracing its shores on the waves, so when on a trip why not give some of the water sports a try! When visiting Honolulu, a trip to Pearl Harbor is very popular and is known to be an amazing excursion and experience. Or if relaxing in the sun is more your style, there are plenty of beaches just dying to be enjoyed by all!
Restaurants
Fresh Seafood is very popular in Hawaii with many restaurants serving many many varieties. Why not sample some local dishes and evolve your taste buds. Also around Hawaii, you will find many recognized American restaurants that are always a safe bet if seafood is not your thing.
Shopping
Hawaii is home to many of the world's largest designers and brands that are all present throughout its many large shopping malls and boutiques. You can also find plenty of souvenirs and crafts which are made by locals and are excellent keepsakes. With the dollar at an all time high, Hawaii is an excellent location to buy yourself that well deserved treat!
Weather
As expected, the weather in Hawaii is almost perfect all year round! Renowned for blue skies and crystal seas Hawaii is a sun lover's paradise, with virtually year round sunshine, perfect for a sun holiday cruise!