Testimonial by Liam & Billy
When we were checking-in on the quayside we were told that our Stateroom number had been changed from Forward to Aft. Needless to say I was mystified as to why we were changed, the person checking us in had no idea why the change had too place as they were only working in embarkation, and to check with guest services when we were aboard!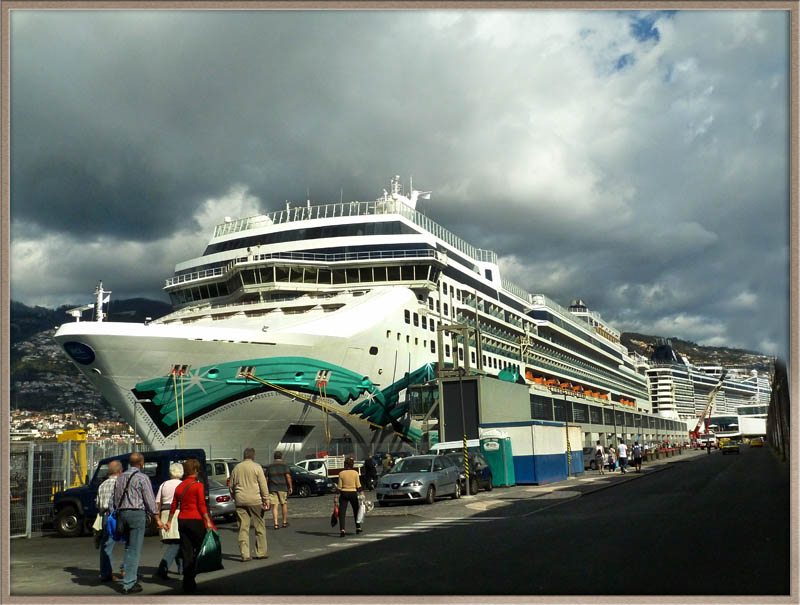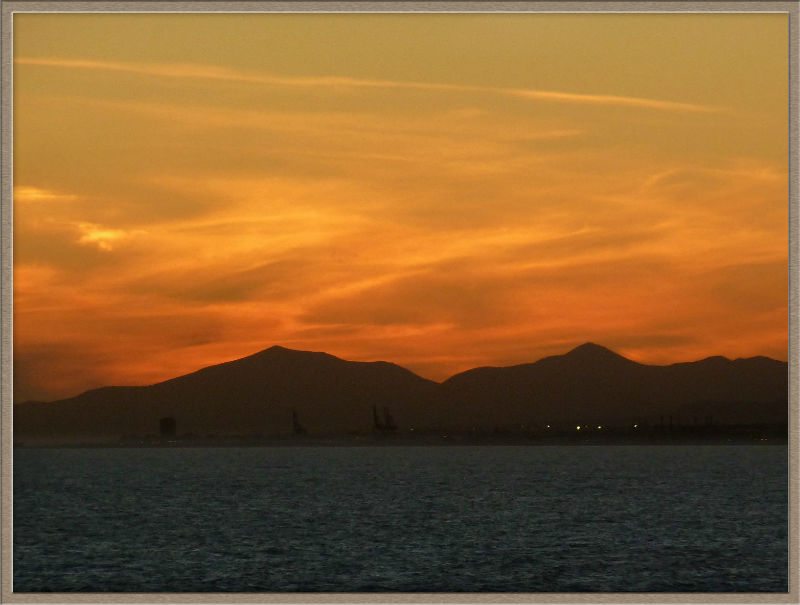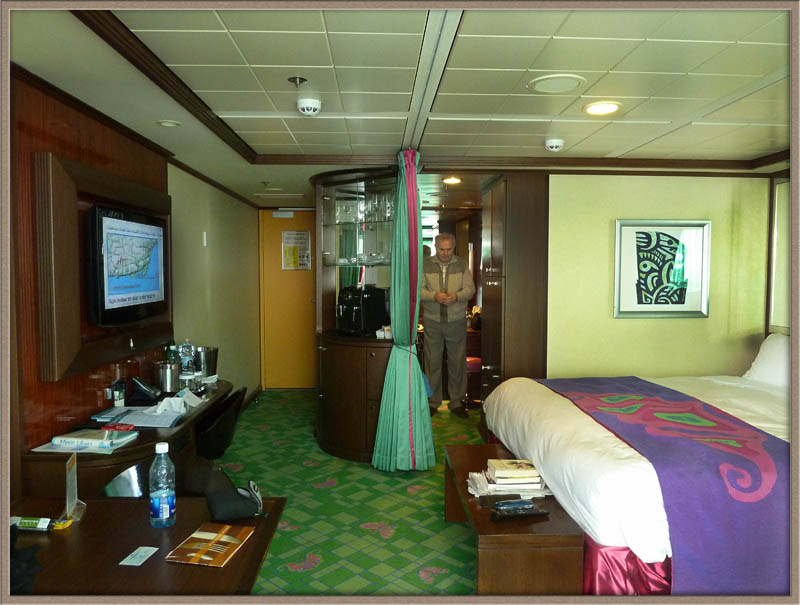 When we checked at guest services we were told that we had been upgraded to a Penthouse Suite on Deck 10 overlooking the stern of the ship, it was fabulous, when we arrived in the Suite there was a complimentary bottle of Champagne, an Invitation to the Captain's Cocktail Party , a plate of sliced fruit and chocolate strawberries (Pics Attached)... There was a small snag there was a letter was addressed to Mr. Brophy, and Mrs O'Reilly :-)...(We are both very much Misters!) We were unable to attend the Captains Party as I was unable to get a cocktail dress made in time for the big do!!!!.. I am guessing that we might have been upgraded because my 70th Birthday was on 25th January!

The Suite was brilliant, and added to that we had nine days of continuous sunshine with temperatures between 20 and 25 degrees, the weather was apparently unusual because the Captain Commented on it on the last night in the theatre..There was a small downside to the story, the suite had a king sized bed and the net result was that I had to sleep on the couch, which was, I must say, quite comfortable!!!!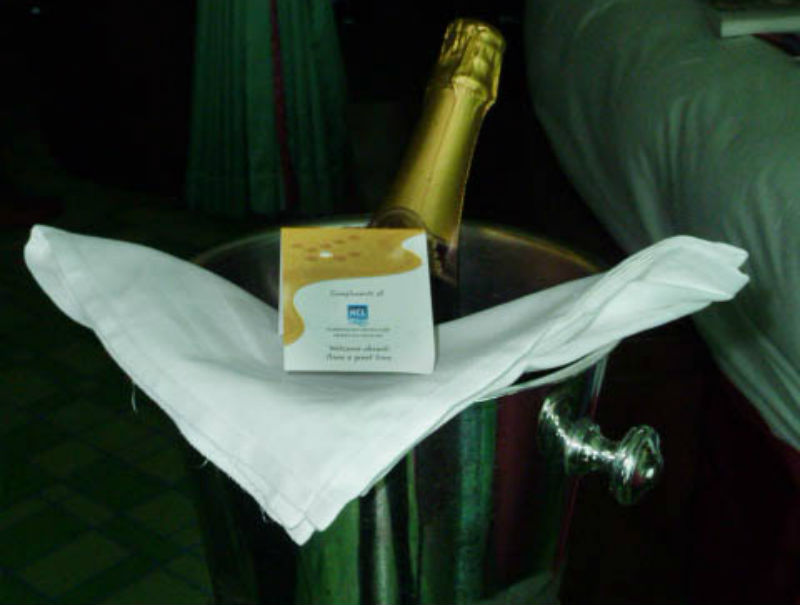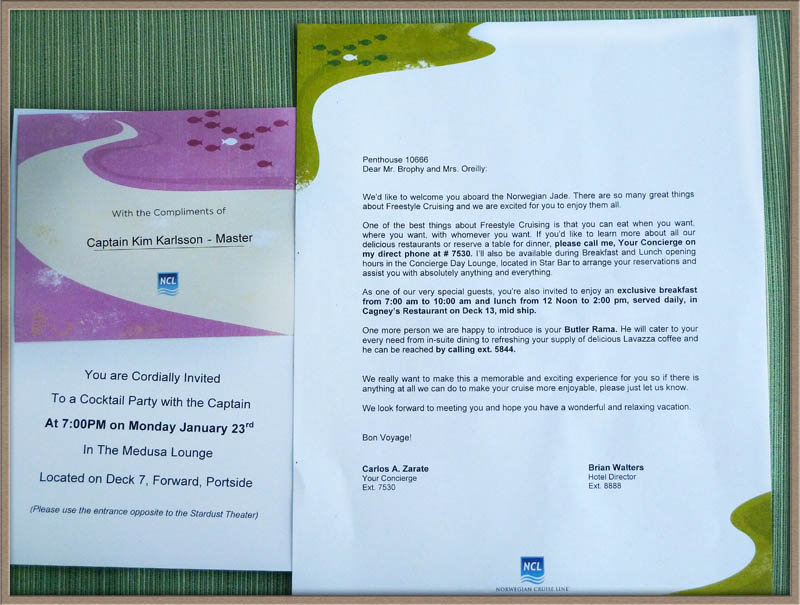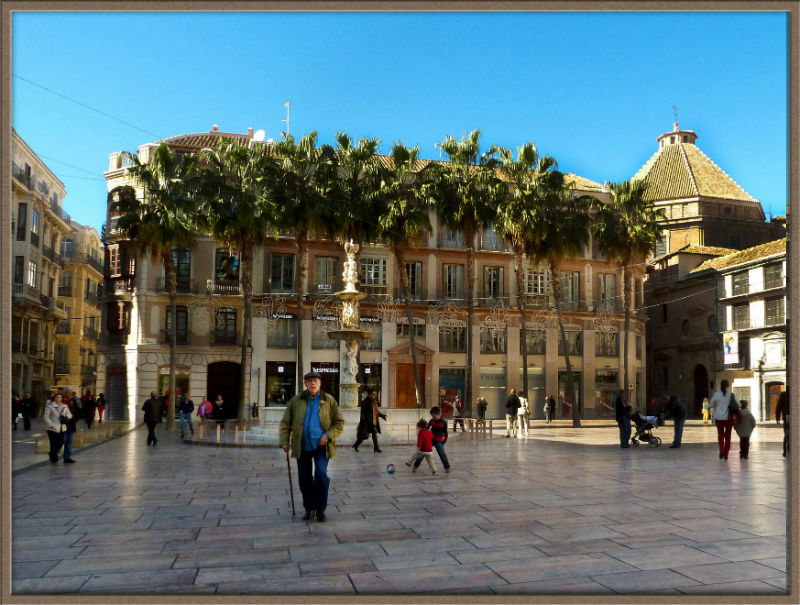 I have now cruised twice on the Norwegian Jade and found it to be a lovely friendly place, our Cruise Director Gary was fantastic, very friendly, cheerful but never overpowering. Would I sail on the Jade again? Most definitely!!!!

Thank you for all your help in arranging our holiday, it is one that we will keep in fond memory!

Kind regards, Liam O'Reilly and Billy Brophy
Testimonial by Catherine
I recently cruised with you, booked on the Royal Caribbean, Allure of the Seas ship and stayed in the Bahia Mar Hotel in Florida, it was brilliant and what we found great was there was a walk-way to the beach from the hotel which meant we didn't have to walk on the road. It was very safe and was perfect for us. Also, the staff on the Allure were brilliant and couldn't do enough for us so thank you all for a great holiday.

Catherine Breen
24/11/2011 (travel date)
Testimonial by Sarah
I went on the Fred Olsen Balmoral cruise ship in august sailing for 4 nights around the English channel. It sailed from Southampton cruise port, Balmoral is a medium size ship with 710 cabins on board and taking 1350 passengers in total. I stayed in an outside cabin which was very specious and had a lovely picture window with a view over looking the ocean. Other facilities included tea/coffee making facilities, television , safety deposit box and en suite bathroom. Balmoral had 5 restaurants on it, Avon and Spey which had floor to ceiling windows which have great views of the ocean, Ballindalloch which is the main restaurant, palms Cafe is the buffet restaurant on board the ship and marquee bar is where they serve snacks during the day. There was a great variety of food on board and they do have emphasis on serving British food in the ballindalloch restaurant for evening dining. Also another lovely touch was afternoon tea served in the Observertiory lounge with delicious scones, pastries and mini sandwiches. The staff on the ship were mainly from the Philippines and were all really friendly. Entertainment was mainly geared toward the clientele on board the ship which would be an average age off 55+ facilities included gardening talks, bridge, quiz's, bingo, cookery and painting classes. Shows were held in the neptune lounge such as Buddy Holly tribute show and Elvis show also. I visited St Peters port in Guernsey which is a quite a small island however a real charming sea side town. There was some lovely small restaurants dotted along the promenade which served a varied menu at a very reasonable cost. It had some lovely winding streets with a few steep hills with some terrefic views. Guernsey is a duty free island so all shopping is a must in this charming town. I also vivited Holy head where went on a half day tour to Caernarfon Castle where the investiture of the Prince of Wales took place in 1969 and also a tour of the general area.
Testimonial by Vasco
The most beautiful voyage of your life!! Norway and the Fjords. Hurtigruten which means "fast route" in Norwegian, presented me with the most beautiful trip ever. My journey in March. From Dublin I flew to Tromso via Oslo with SAS. Great flight, those guys know their business, slick Airline and very well organized. When we arrived in Scandinavia, it was cold, but my mind was completely away from cold weather as I was on my way to do Dog Sledging, one of Excursions from Hurtigruten. This was outstanding, we had so much fun. Amazing experience to drive sledge with those 5 great dogs in front of you! After a nice meal and warm drink and we jumped on a bus that dropped us to the port. I then joined Hurtigruten on the Trollfjord (ship) and we sailed away from Tromso down South. The ship was a lot nicer then what I had expected. The cabins were a good size as Interior cabins go, food was really nice, had a couple of bars and a coffee shop, a lot of nice alcoves and view points so you can relax, maybe have a read, listen to some music and watch the world go by. On board there were around 680 passengers, and all staff were so nice, really helpful and always served you with a smile. The dream then started. Norway has, along the coast, 34 ports of call. During this expedition, you visit some beautiful towns, and during those you can do excursions like the Ice Bar, Ice Hotel, Husky and Reindeer sledge, King Crab safari, bird watching, snow scooter trips or safaris, visit museums and amazing cathedrals. During the next 3 days only my photos can describe this amazing trip from Tromso to Trondheim including the Fjords. Mother nature provided me with the entertainment. Beautiful scenery all the way down the coast. I got to learn that Scandinavia in general is beautiful but especially Norway, as their coast is just outstanding and guarantees you with the trip or voyage of a lifetime. Huge thank you to Hurtigruten and their staff for this amazing experience. Those guys do a great job, not only providing you with a trip of a lifetime, but also in helping several communities along the coast delivering goods etc.
Testimonial by Liz
I just back from a Baltic Cruise, which was 'the best holiday I have ever had'. I flew with Scandinavian Airlines with no problems. the online check in was very easy and I had no delays. The sights were amazing, the food was fantastic and the staff and entertainment were excellent. As good as the onboard entertainment was the shore excursion to see the fjords was the highlight of the trip. The weather was beautiful, one day was a bit windy but I didnt notice much movement at all onboard the cruise ship. Copenhagen was a very easy city to get around due to the great Metro serice, it really was a beautiful city, very friendly people.
Testimonial by Valerie & Pat
We are just back from our cruise in "The Land of the Midnight Sun" It was just wonderful. The scenery was stunning throughout. Norway is the most beautiful country. All the ports we visited were well worthwhile. Murmansk in Russia was in a way the odd one out, because it is not pretty at all, but it was a cultural experience, and a great opportunity to see a city in Russia. The midnight sun was absolutely amazing. Everything went well and I certainly would recommend this cruise to anyone who enjoys breathtaking scenery and beauty. It was a cold trip at times, Up in Svalbard the temperature was 0.5 degrees and we were so glad we had jackets, wooly hats and gloves. It never got really warm though at times it was nice in the sunlight.
Testimonial by Amanda
thanks a million for all your help with our Honeymoon, it was perfect. Mexico was AMAZING. I didn't want to leave and im not usually a sun holiday person, but I would have easily done two weeks there, maybe even three! When we 1st arrived I walked around with my jaw dragging on the ground, it was out of this world! The service was amazing, the food was amazing, the beach was amazing, the pools were amazing, the cocktails were amazing. i could go on all day. But you catch my drift!!! All i kept saying was this is "paradise", it really was. I was so sad to leave, we meet some lovely people too! Vegas was savage. I loved it. I would go back with a group. We went to see LeRéve, it was brilliant!! The shopping was great, I loved the grand canyon and the cowboys, really great, glad we booked it. Even if I was a lil' sick after the helicopter! We even did that roller coaster in New York Hotel. It's a crazy place! We've already started to save to get back to Mexico next year. I dont know how I'd ever slum it on a "package holiday" again after being there. I cant wait to go back. even selling my wedding dress to fund it!! hahahaha. Thanks again for all your help, you've been brilliant. you really have!!
Testimonial by Hilary
Room:
We had a sea-view room with a balcony and were pleasantly surprised with how spacious it was as we had been told that the rooms on cruise ships were tiny! The bathroom was small, really only room for 1 person but it had everything and enough storage space so we could not complain. The bedroom area had the most comfortable bed Ive ever been in on holiday and plenty of wardrobe space, there was a dresser type area where the tv and fridge area were and some small presses, we had a couch and small coffee table that we hardly used anyway and the balcony was a nice size with a table and 2 chairs. There was only room for 1 case at the bottom of the wardrobe so really my only gripe is that our other case was sort of in the way, I pushed it into the space under the dresser, this just meant that I could not sit in at the dresser to do my hair & make-up but I didnt really mind. Room service is available and we had breakfast on the balcony once, it was lovely and we tried to do it again but when the sun was up on our side of the ship it was too hot to sit outside!
Food:
No extra charge dining The varierty of food on board is amazing, we did not eat everywhere but here are my thoughts on where we did: Adagio, the main dining hall - This dining room looks amazing (very titanic-ish) and the food is great too. We chose the 'my time' dining option and on the occasions where we ate there, this worked well and we did not have to wait for a table. The menu changes daily and there were a couple of themed nights during the week, you can check the menu daily on your in-room tv, also the formal nights dont have to be super formal for you if you dont feel like getting very dressed up, a shirt for guys is enough. The Windjammer buffet - Food here is available all day, when breakfast is finishing on 1 side lunch starts on the other. It can be busy at times but we never felt crowded and there was always free tables. The food was good and the selection was almost overwhelming, there was something for everyone all day long. Both of the above are great and I have no complaints at all about either, even though I thought they would be loud and busy they were not at all but we just preferred the smaller speciality restaurants, we liked trying them out! Sorrentos, Pizzaria on the royal promenade - Great Pizza, lots of flavours available all the time and if you are prepared to wait 15 mins they will make a pizza just for you. This is take-away or sit-in, a very popular spot but you never have to wait long. Park & Royal promenade cafes - A lovely selection of filled bagels & croisants, fruit and cookies also juices, teas & coffees. The Royal cafe is open 24hrs, very handy! The hotdog stand - Really nice hotdogs, we went here for lunch 1 day, nice surroundings on the Boardwalk.
Speciality restaurants (that we tried):
I cannot remember how much extra we paid for each but we did not think any were overpriced. Giovannis, Italian - If you like Italian you will love this, it really is authentic Italian food and we tried a couple of dishes that we had never even heard of! It is in Central Park and the decor is lovely. Samba grill, Brazilian steakhouse - I have never been to a steakhouse like this, I think there was about 9 courses. There is a starter and sides buffet and the waiters bring skewered meat to your table and cut it for you. Your table has a traffic light, you change it to green if you are ready for food and red if you are not. There are also Samba dancers entertaining. Izumi, Japanese & Sushi - We absolutely love sushi and were really impressed with Izumi. This is the only restaurant where you actually pay per dish but it is very reasonable and you get lots of it. Definetely a place to try if you like Japanese and or sushi. Johnny Rockets, an american diner - Great american diner food, burgers, fries & malts etc. We went here for lunch 1 day and enjoyed the burgers and laid back atmosphere so much that we went back for dinner a few days later! We had booked Ritas Cantina but cancelled when we saw that everyone sat at big tables together, I know this sounds unsociable but we wanted to relax, we just didnt have time to try Chops Grille but anyone who had loved it and we decided not to try Chefs table as we thought it was a little pricey, but this price did include wine.
Drinks & Bars:
There is a huge variety of bars and lounges on-board, we tried a good few, but returned to a couple that we like most a few times! You should remember that if you go to a bar and dont see what you want on the menu a waiter will go to a bar that has what you want and bring it to you (with the exception of some specialty wines and beers) The sports bar - lots of tv's and a nice atmosphere. We got to see lots of rugby, but you should know that the waiters have no control over whats on the TV's, the main focus is on american sports but we saw lots of rugby as the world cup was on and a good bit of soccer was shown too. There is good entertainment here too, Karaoke and quizes, if this starts and you dont fancy it you can just take your drink and leave! The Viking Lounge - We really liked it here, it's very spacious with comfy chairs and nice background music, its very relaxing with great views, lovely for a pre dinner drink. The English bar - A huge selection of drinks from around the world, traditional decor, but there was an entertainment guy there that we found really annoying (taking the p out of people, changing songs and really loud) so we avoided the place a bit because of this. The rising tide bar - This moves up and down over a couple of decks, its a nice novelty but its quite small. Piano bar - Very popular and comfy, sometimes standing room only, but the piano guy is very good. Pool bars - There are loads of these with sun bed service around the top decks, they also do daily special cocktails that are yum! Trellis bar - This is in the park and was lovely for an outdoor evening drink. Tango dancing bar (not the actual name) - Very popular but not our cup of tea! The Jazz bar - Great Jazz bar Vintages, wine bar - A really nice wine bar with a huge selection of wine with lots of leather couches and seats outside on the park. They also served Tapas which we did not try but they looked great. We also did a wine tasting session which cost €15 but you are only paying for the wine, really enjoyed this. There are more bars on-board, none of them are bad but you just cant get to them all! Nightclubs: Dazzles - Lovely location which did theme nights, 70's nights etc. Blazes - A late night nightclub with lots of R&B and rap The outdoor nightclub - Our favourite, great dance music (Ibiza-ish) its outdoors at the top of the ship, but it was not on every night.
Soda & Drink packages:
Water package - We purchased this, it was so hot that we went thru a huge amount of water and saved 20% by buying the package Soda package - I bought this, you get a special cup, but you dont have to carry it with you as there is a symbol on your sea-pass card. We found 1 soda package was enough as we could share sodas and keep getting refills. We didnt buy a wine package.
Evening entertainment:
Where to start here! There is just so much entertainment I can only touch on a small section of it.. Each day you will get a paper copy of the schedule of events to your room, this has timetables for all of the entertainment on-board (I brought this in my bag when we went out), also at the lifts there are touch screens that tell you what is on now and later and where. The Mr & Mrs Quiz, the Quest gameshow, worlds sexiest man, karaoke, iceskating, movies on big screens, cocktail shows, pre-dinner & after dinner dancing, flash mobs on the promenade and all sorts of quizes, this really is just the tip of the iceburg when it comes to evening entertainment and of course there is the casino which is much bigger and better equipped than we thought it would be, all of the bars & nightclubs and the shops open late too!
Shows:
We went to see Chicago which we loved and the Ocean Aria which is a water show in the Aqua theatre, it was great too. We booked both when we got to the ship (you can do this on your in-room tv) but even if they say they are full you can go anyway, most people at the shows who had not booked got in as people who had booked probably decided not to go.. The shows change during the week, you can see the schedule for the week on your tv or on the daily schedule. There are a huge amount of childrens shows with the Dreamwork's characters but as we dont have kids I cannot say anything about these! You will also see Shrek and friends around the ship, you can have your photo taken with them, I met Puss in Boots! We had wanted to go to the comedy club and this was the only thing that was fully booked with a large queue each night for cancellations so we never made it.
Daytime entertainment:
Again there is an enormous amount of things to do during the day, these activites also take place even when the ship is at port so if you decide to stay on board there is still lots to do, if you want to! The Zip-line - I tried this and loved it, its free and you can do it as many times as you like (you just have to queue each time) I was lucky and did not have to queue for long, I had seen long queues on occasion, you cant book it so if you want to try it I would advise keeping shorts and socks in your pool bag and if you spot a short queue, you can join it. The Rock climbing wall - Loved this too and you can climb over and over for free. Again you need the shorts and socks so its handy to have them in your bag Pool areas - There are at least 6 pools, none of them are huge so you would not be swimming laps but they are great for relaxing and cooling down. There is an adult only pool which was busy but no kids!, a sports pool, a special childrens area which was really well kitted out and lots of jazcuzzi pools. There are lots of sunbeds available in the pool area, but in the heat of the day the shaded beds were harder to come by. We preferred to stay up on the skywalk (the highest deck), it was quieter and just 1 flight of stairs up from the pools, it was quieter because there was no shade at all here (umbrellas are not allowed as it can get very breezy), the breeze does keep it cooler but without the factor 30 you might burn pretty quickly! The wave rider (surfing) and the boogie board looked like great fun and were popular without massive queues but I'm not a fan of fast flowing water so I just watched! Children! Just a small note about children on the ship, I was a little bit concerned that there would be tons of them and that we would not be able to escape them!! We spoke to a barman and he said that of the over 5000 passengers on our cruise we had just 300 children as it was September and schools had started back etc, during the summer months he said they would have approx 3 to 4 times this amount For this reason there never seemed to be a huge amount of children running riot on the ship, but they are quite strict on the times when children had to leave certain areas and most families with children stayed around the childrens pool areas and sometimes the sports zone during the day and the promeade an boardwalk at night. Also if this is a concern for you, you will know very quickly where you are most likely going to meet lots of families and how to avoid them, this was one reason why we were drawn to the speciality restaurants.. But having said this even if I was thinking of going back during the summer, this would not deter me, who knows maybe in a few years I might have a couple with me! The different areas on the ship: The Royal Promenade - This is the main street on-board. Lots of bars, pizzaria, a cafe, starbucks and lots of shops, it was always busy and had a great buzz without feeling too packed. The Boardwalk - This is an outdoor area that has more children orientated shops, a merry go-round, but has bars, restaurants and the outdoor theatre, a lovely place in the evening when it got a little cooler. Central Park - Our room was on this deck, it is a lovely space and was never too packed, lovely restaurants and a bar and wine bar where you could have a drink outside to enjoy the park. Entertainment Place - The casino, comedy club, 1 of the nightclubs, ice-skating, the large theatre and smaller venues for shows and quizes, tons to do The Sports Zone - Including the wave rider, boogie boarding, basketball court, zip-line, crazy golf and more cafes and bars Fitness & Spa - The gym was very well equiped and there is a running track ( I found it too warm to run outside), the Spa was top-class also.
Port stops:
We docked in Haiti, Jamaica & Cozumel in Mexico. There are tons of trips in each port, you will find something for all tastes, Haiti had more sporty/adrenalin activites, Jamaica had more historical & sightseeing tours and Cozumel had both! In Haiti we did a trip with Sandbar Island trips. We went to a small deserted 'castaway' island for 2 hours where we relaxed and swam in the fab surroundings, we loved it. The boat and crew were great and the island was paradise. Then we strolled around Labadee, the market is nice to stroll around and the sellers are not pushy, the ship provided a large buffet BBQ, the food was of ships quality and we enjoyed it a lot. We could see lots of the sporty activities and they looked great, but we just didnt have the energy for them in the heat! In Jamaica we did a trip to visit a cave and to the waterfall that you can walk/climb up. The cave was ok, but a lot of people did not like it as there were a lot of bats and parts of it were very dark and small, I liked it but the trip info did not mention the bats and dark! The waterfall was just great fun, you climb it as a group and you can hire the aqua shoes (you will need them), its not too difficult all ages were doing it and you can leave the fall at different stages if you are not enjoying it. The sellers at the waterfall were a bit pushy but our guide had us well warned so we were prepared and avoided them! A lot of people did a huge variety of trips in Jamaica and anyone we spoke to really liked it. A new port has been built for the Allure, it was almost finished when we visited and has a great selection of duty-free and souvenir shops. In Cozumel we did the sea-snorkel trip, this meant that we had to get a ferry to the mainland which takes about 30 mins and then a 20 min drive but it was absolutely worth it. The beach where we snorkelled from was amazing and we were able to go within a few feet of the huge sea turtles, they didnt seem to mind that we were so close, lots of people dived down to them and once you dont touch them the guides dont mind, there were Baracudas and all other reef fish too, we both loved this and had lunch on the beach afterwards. We still had time for shopping when we got the ferry back to Cozumel, its great for jewellery and leather goods and there is a huge selection of shops there. Just to note that any alcohol that you buy in port will be taken from you when you re-board the ship but it will be sent to your room the night before you leave the ship.
I think I have covered most things here! I cant say enough how much there is to do on this trip and how great everything was, the staff are all really helpful too.
Testimonial by Lidija
I was lucky enough to spend a week on an excellent Mediterranean cruise this year. I sailed out of Genoa on the brand new MSC Splendida. Ship itself was great, with several swimming pools, big casino, and many cake and coffee shops. My favorite place was little coffee shop that looked like a plaza in the middle of Italian city, with gellato on the corner and fountain in the middle of it. Ports we got to see were absolutely breathtaking. Marseilles had really nice port with the fresh market selling olivs, almonds, different cookies, liquor and spices. Then Barcelona, which I cannot wait to go back and see it again. We traveled to Sicily and Malta as well, finishing in the Eternal city of Rome. There was something priceless in the experience of eating pizza just outside of the Coliseum. I really liked the dynamic of cruising, with each day spent in the different place and easy nights with magnificent 5 course dinners, shows and casino until the early hours. I can't wait to go again, just need to decide where to go this time!
Testimonial by Margaret
On behalf of myself and my husband Sean I would like to take this opportunity to thank CruiseHolidays for our recent holiday, It was amazing. Everything went according to plan the hotels you chose, The flights, and especially the cruise Wow! Alaska was everything we expected and more. Princess cruises were fantastic, their ships may not be as modern as some of Royal Caribbeans, but they had an elegance all of their own reminiscent of P&O. If i was doing the trip again i think i would like to spend a few days exploring Alaska more maybe take the railway trip and stay over, but it was a good Taster Trip! I was particularly pleased with our Hotel in San Diego on Mission Bay, The staff of the Bahia really gave us the V.I.P. treatment they upgraded our room and gave us free tickets on their steamboat trip around the Bay, very romantic considering it was our anniversary. There was just one little thing that you might consider for future visitors doing this type of cruise and that was to offer transfers from San Francisco Airport to the Hotel or the cruise ship, when we arrived we didn't know how far away the hotel was from the airport and a lot of people who were on our flight had prepaid vouchers for shuttles, this isn't a criticism just an observation to enhance the trip. All in all a fantastic holiday, thank you so much for your efforts on our behalf. Best regards, Margaret Dent.



Testimonial by Marie
I just returned from a 28 day Fred Olsen cruise of the Med, The Food, Service, Itinerary, Activities, were all excellent and I thoroughly enjoyed my Cruise Holiday. Two ports were altered on route due to delays and civil unrest but it didn't change the fact that I loved it. One activity on board was a water colour painting class, so I had eleven days at sea and I managed to do an entire term of painting on my cruise for free! what fun! Lots of people on board were my age which was very nice.