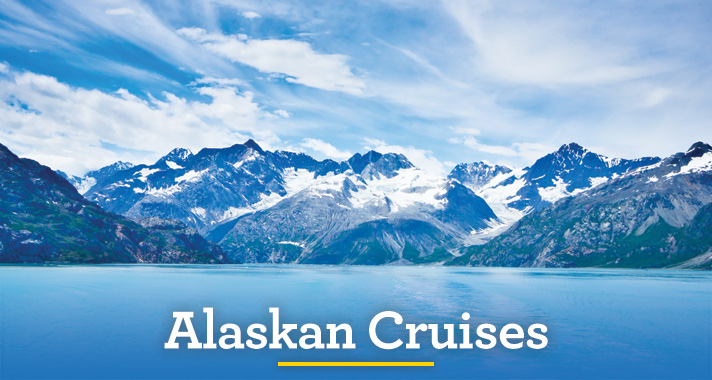 Alaskan Cruises
Experience an adventure of glacial proportions on an Alaskan cruise! Alaskan cruises are seasonal and sail through the summer months from a selection of ports. Get up close and personal with untamed wilderness and a natural beauty not rivalled elsewhere on one of these once in a lifetime cruises. Alaskan cruises are often paired with an unforgettable journey on the Rocky Mountaineer.
Alaskan Cruise Highlights
Alaskan cruises sail from a selection of ports in the USA and Canada including Anchorage, Vancouver, Seattle and San Francisco making them perfect to pair with a short city break. Of course such a special destination has many highlights, some of which include:
Hubbard Glacier
The Hubbard Glacier is not to be missed on your Alaska cruise. Measuring over six miles wide, this 400 year old glacier is perfect for a photo opportunity.
Juneau
Juneau is a popular spot on an Alaskan cruise as it offers many exciting excursions and activities for you to enjoy. Ride upon a dogsled to the top of a glacier, take a scenic helicopter tour or why not go bear watching! Juneau is also known for its brilliant white water rafting and shopping.
Skagway
Step off your luxurious cruise and feel as if you are after stepping into an old Western movie! Skagway features quaint saloon bars and costumed madams and this unique Alaskan town is seeped in rich history. While there, take a dogsled ride or why not take a ride on a steam train. You can also go zip lining in the area.
Vancouver
Vancouver is one of the fantastic cities you can start your Alaskan cruise from and with mountains as a backdrop and its location on the water, it's a city full of activities,life and stunning scenery. Enjoy a boat trip over to Granville Island and while there, take a bike ride through Stanley Park. If you're the more adventurous type, why not take a stroll across the Capilano Suspension Bridge.
-->