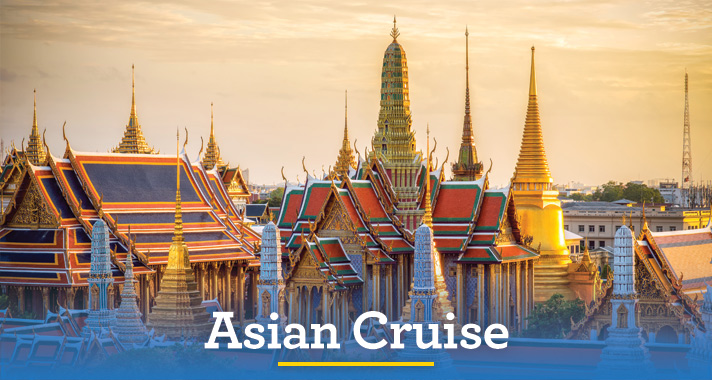 Aisan Cruise
Asia cruises are exotic and take in many incredible destinations including Singapore, Thailand, Vietnam, and China. Asia is a land of hidden treasures and it's easy to be captivated by its sweet scents, exquisite curries and its wonderful people. A cruise around Asia is a wonderful and exciting way to explore everything that this alluring continent has to offer.
Asian Cruise Highlights
Below are just some of the highlights you can expect on a luxurious, exotic Asia cruise.
China
China's sights are as rich as they are varied. Visit cultural attractions such as the Great Wall of China, Shanghai's Jade Buddha Temple, the Chi Lin Nunnery on Kowloon and Macau's Baroque churches. While there, you can also explore China's cosmopolitan cities of Shanghai and Hong Kong where glistening glass high-rises share the locality with ancient temples.
Singapore
The stunning city of Singapore is home to cultural and colonial icons that will transport you back in time. Singapore also boasts glittering skyscrapers with a delightful infusion of Chinese, Malay, Indian and European influences all living side by side. Singapore remains Southeast Asia's leading economy for business, finance, technology and stability since independence in 1965.
Malaysia
Malaysia offers you the chance to explore mysterious caves, mist-shrouded mountains, tropical rainforests and a city, Kuala Lumpur, that lives up to its reputation as a global must-see destination. In Kuala Lumpur, check out the Petronas Twin Towers, or go island hopping on some of the 99 islands that surround Langkawi. If shopping is more your thing, spend your day at the Mid Valley Megamall, Asia's largest retail centre.
Japan
In Japan, there are many tours you can do. Visit the World Heritage Site temples in Nara, reflect on the meaning of peace at the Nagasaki Peace Park or visit Kyoto, one of Japan's most historically significant cities. You can also travel in the world's fastest elevator to the observatory deck of Japan's tallest tower and take in views of the stunning Mount Fuji, the Tanzawa Mountains, the Boso Peninsula and Tokyo.
Vietnam
While in Vietnam, why not go snorkeling or diving in the clear turquoise waters off the pristine beaches of Nha Trang or we recommend going to see Ho Chi Minh's massive mausoleum in elegant Hanoi.
Thailand
Thailand is overflowing with cultural riches and its miles of temples and sacred structures will simply astound you. Explore Bangkok, the City of Angels, with its imposing 36m Loha Prasat and the Reclining Buddha of Wat Po. The Temple of Dawn is also a must see.
-->