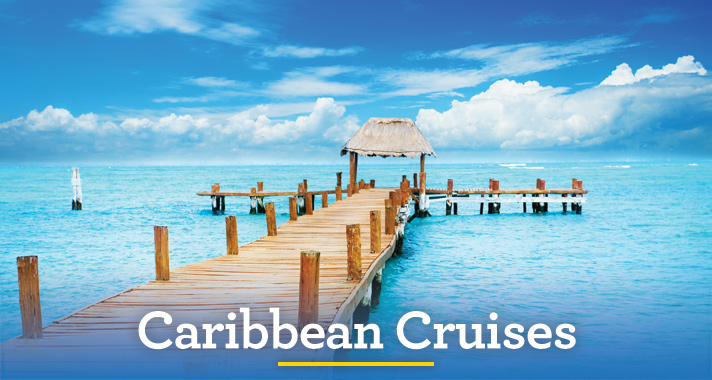 Caribbean Cruises
Sailing around the Caribbean is like sailing around paradise. Powder-sand beaches, turquoise waters and palm trees that sway to local Caribbean rhythms. The Caribbean is a fantastic destination for not only relaxing on perfect beaches, but also for those who seek adventure. Swim with tropical fish, explore Mayan Ruins, go hiking and more! It's all possible on a Caribbean cruise holiday.
Eastern Caribbean Highlights
The Eastern Caribbean is made up of fabulous islands with so much character and life. Some highlights of an Eastern Caribbean cruise:
St. Maarten
St. Maarten is a fabulous Caribbean island that offers loads to see and do. Discover the history of this two nation island on an exciting excursion or enjoy a day on one of the perfect beaches. Local excursions give you the opportunity to see landmarks, fishing villages and more. Harmoniously shared by the French and the Dutch, St. Maarten brings the perfect blend of the quiet, sophisticated French and the vibrant, lively Dutch.
Nassau
Nassau, the main island of The Bahamas is picture perfect Caribbean. White powder sand beaches, tropical fish, warm waters and a culture and life that's hard to rival. With museums, water parks, markets and shopping, it's also an island that offers loads to see and do.
St. Thomas
You will leave St. Thomas in awe. This stunning island is known for its scenic harbour, its selection of sporting activities, its mountain scenery and crystal clear waters. The palm tree lined beaches are also stunning and perfect for a day of relaxation. While there, be sure to visit the rum factory, the Amber Museum and Turtle Cove.
Western Caribbean Highlights
The Western Caribbean is home to some fantastic islands, beaches and attractions. Here are some highlights of a Western Caribbean cruise:
Cozumel
Cozumel in Mexico is a fantastic destination that offers perfect sandy beaches, mouth-watering local cuisine, stunning wildlife and more. A visit to Cozumel also gives you the opportunity to see Mayan Ruins and to visit the Yucatan Jungle Forest where you can enjoy underground formations as well as ziplines, rafting and more.
Falmouth
While visiting the gorgeous island of Falmouth Jamaica, there are many action packed excursions for you to enjoy. While there, be sure to take in the wonders of the Luminous Lagoon where you can swim with dolphins, sharks and stingrays or why not head to the Green Grotto Caves and Dunn's River Falls! Of course if relaxation is what you are after, you can spend the day by the crystal clear waters of the Caribbean sea.
Labadee
Labadee in Haiti is a fantastic cruise stop and it's famous for its stunning beach. Enjoy powdery sand, crystal clear waters and if you are brave enough, why not try the Dragon's Breath zip line. There is also many watersports available for those who enjoy getting out on the ocean.
-->