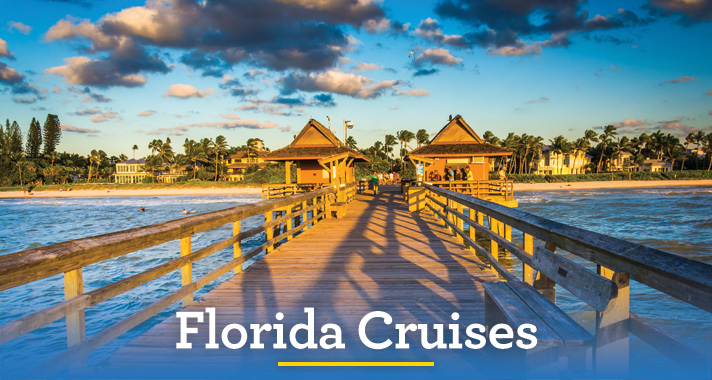 Florida Cruises
Florida can easily be considered as the cruise ship capital of the world with its many cruise options to the Caribbean, the Bahamas and further afield. Aside from sailing outward though, Florida is often a port of call for cruises sailing south. With endless sunshine, many attractions and world-class shopping, it's a popular stop and pre/post stay destination on a cruise holiday.
Florida Cruise Highlights
There are many highlights to a Florida cruise. Florida is filled with excellent shopping destinations, many dining options, pristine beaches and some of the best theme parks in the world. All of these factors make Florida a perfect port of call on a cruise and also a fantastic destination for a pre or post cruise stay. Some highlights of a Florida cruise include:
Orlando
Many cruises travelling down to the Caribbean from New York City stop at Port Canaveral offering you a day to visit and explore Orlando. While there, why not enjoy one of the many theme parks in Orlando including Universal Studios and Walt Disney World. Orlando is also perfect for a pre or post cruise stay before a Caribbean or Bahamas cruise.
Key West
Key West is Florida with a perfect Caribbean flair! Why not relax by the tropical seashores, sample local cuisine or go snorkeling. Key West offers a relaxed environment that's perfect for those on a cruise to the area.
Miami
Miami is a fantastic cruise port to sail from and it offers a lively scene for those who wish to stay a night or two pre or post cruise. Miami is also home to delicious Cuban Cuisine and the world famous South Beach. If visiting for a few days, why not do an excursion and explore the nearby Everglades National Park.
Fort Lauderdale
Fort Lauderdale is home to some of the biggest ships in the world and a couple of days relaxing in Fort Lauderdale is perfect before a Caribbean cruise. Enjoy an endless choice of restaurants as well as upmarket shopping and a beach that goes for miles.
Tampa Bay
Tampa Bay is fastly becoming a popular cruise port and with its gorgeous Bayfront area, excellent dining and fantastic shopping, there is so much to enjoy while in the city. While there, we also recommend you visit Busch Gardens and Ybor City.
-->