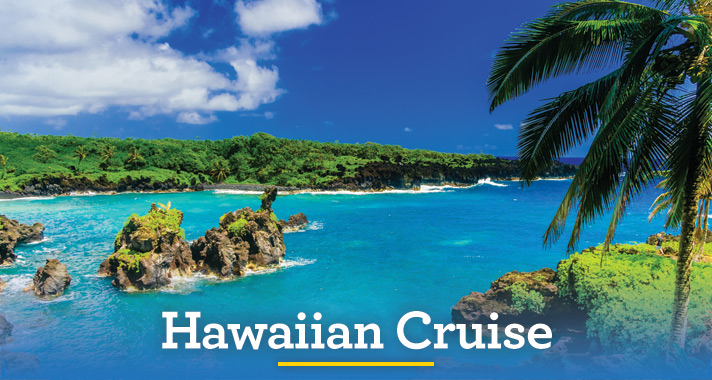 Hawaiian Cruise
Aloha is the only word you will say when you witness the amazing beauty of the Hawaiian Islands. With clear seas, forest covered mountains and white sandy beaches, Hawaii is a picturesque paradise. What you get to see and do on a Hawaiian cruise holiday is endless. Discover the beautiful ports of Honolulu, Maui, Kauai, Big Island and many more.
Hawaiian Cruise Highlights
Whether you're looking to explore Hawaii on your honeymoon, a special trip of a lifetime or if you simply have a desire for paradise, Hawaii is certainly the place to go. Here are some of the highlights you can enjoy on a Hawaii cruise.
Honolulu
The most populous of the Hawaiian islands, bustling Honolulu offers attractions for visitors of all ages. From the iconic Waikiki Beach to the glorious Iolani Palace and poignant Pearl Harbor memorials, there's certainly no shortage of things to do in "The Big Pineapple" of Hawaii!
Maui
Once the favorite playground of Hawaiian royalty, breathtaking Haleakala National Park boasts diverse volcanic and rainforest landscapes, plus a 10,000 foot tall dormant volcano. While there, you can also sail out onto the scenic waters off Maui's sun-kissed shores and witness the humpback whales swim about.
Big Island
Nearly twice as big as all of the other Hawaiian islands combined, the Big Island is a paradise of black-sand beaches, tropical rainforests and even snow-capped peaks. While there, feel the spiritual "mana" on a shore excursion in Waipi'o Valley which was once the meeting place for Hawaiian kings and fabled to contain an otherworldly gate or why not visit the famous Hawaii Volcanoes National Park and behold its extraordinary lava landscapes and two of the world's most active volcanoes.
Kauai
When it comes to Kauai, good things come in small packages. Despite being the smallest of the four main islands, Kauai is home to the "Grand Canyon of the Pacific" Waimea Canyon,the lush Fern Grotto framed by Wailua River and so much more. The stunning Na Pali Coast has served as the backdrop for Hollywood blockbusters such as Jurassic Park and King Kong. With endless emerald landscapes, Kauai truly lives up to its nickname of "The Garden Island".
-->