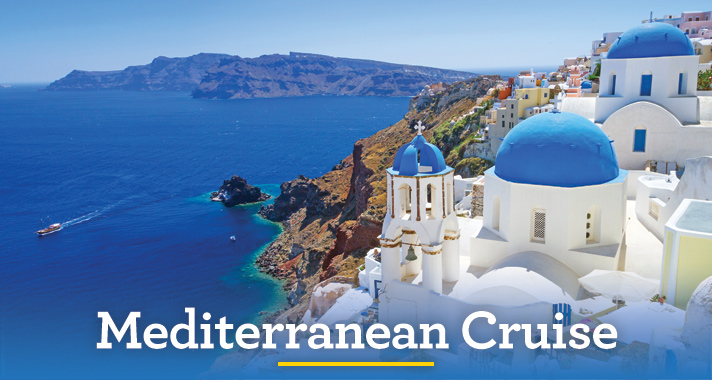 Mediterranean Cruises
Enjoy the best of the Mediterranean on one of our many Mediterranean cruises. Mediterranean cruises have so much to offer families, couples, solo travellers and those who seek adventure. The Mediterranean is broken down into two distinct cruise routes - Eastern Mediterranean and Western Mediterranean. Each of these destinations offer a whirlwind of cultural cities, historical sites, excellent shopping, stunning architecture and more.
Eastern Mediterranean Highlights
Eastern Mediterranean cruises take in the stunning Greek Isles, Turkey and Croatia to name but a few. Some of the highlights of an Eastern Mediterranean cruise include:
Santorini
Sanmous Old Town, take in the Onofrio's Fountain and the Dominican Monastery. torini is one of the most famous Greek Isles and its known for its stunning architecture, its structure from volcanic activity, its mythological involvement and its crystal clear waters. While in Santorini, enjoy the black sand beaches or why not hike up a volcano to enjoy a one of the hot springs.
Dubrovnik
Dubrovnik in Croatia is a stunning city that is simply picture perfect. This unique city can be explored by land, sea or cable car. In its famous Old Town, take in the Onofrio's Fountain and the Dominican Monastery.
Athens
A popular favorite on Eastern Mediterranean cruises, Athens, once the cradle of civilization offers you an exciting step back in history. Discover the Acropolis, the Monuments of Parthenon, the Theatre of Dionysus and Daphni Monastery
Western Mediterranean Highlights
Western Mediterranean cruises take in all that Spain, France and Italy have to offer as well as many other unique destinations. Discover stunning architecture, delicious dining, picture perfect moments and unique cultures. Some of the highlights of a Western Mediterranean cruise include:
Rome
Rome is one of the most iconic Mediterranean cities and it is packed with things to see and do. Seeped in history, Rome gives you the opportunity to discover stunning architecture, excellent shopping, many art galleries and delicious Italian food. While there be sure to visit the Vatican, St. Peter's Basilica and the Colosseum. We recommend you take a shore excursion with your cruise line when visiting Rome as the port is over an hour from the city of Rome.
Florence & Pisa
Florence & Pisa is always a popular stop on a Western Med cruise because it is here, you can marvel at the world famous Leaning Tower of Pisa. While visiting, you can also enjoy tasty cuisine, sip champagne and visit the city's gothic Church of Santa Croce.
Cannes
Cannes in France is home to the world famous Cannes Film Festival. Retrace the red carpet steps that are taken year after year by the A list celebrities of Hollywood. Located on the French Riviera, Canne is a high end city that offers you scenic views, excellent dining and a luxury experience.
-->