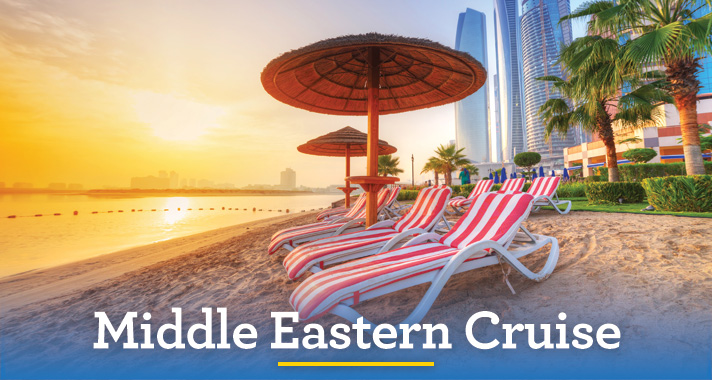 Middle Eastern Cruise
Middle East cruises that take in the sights of the Arabian Gulf have never been more popular. With incredible cities, unique landscapes and exotics lands and charm, Dubai cruises and Middle East cruises are a must for any cruise lover.
Middle East Cruise Highlights
Explore bustling souks, vast deserts, pristine beaches and breathtaking historical sites when you delve into the Arabian Gulf on a Middle Eastern cruise. Let the exotic spices and endless sunshine captivate you on a cruise holiday like no other. Below are some of the highlights you can experience on a Middle Eastern cruise.
Dubai
Dubai is one of the most spectacular cities in the world and it's home to the Burj Khalifa which is the world's tallest building. Why not have a drink on the 122nd floor and enjoy the amazing views or if you prefer, why not go shopping or enjoy a day at the beach.
Abu Dhabi
Abu Dhabi is a very contemporary city that's filled with art galleries, jewellery stores, handcrafted one of a kind stores and colourful souks. This wonderful city is perfect for a day of retail therapy on your cruise holiday.
Khasab
Khasab, which is known as the Norway of Arabia needs to be explored on your cruise. With breathtaking waterways and a charming harbour, it's just waiting to be discovered by you.
Muscat
Muscat, the Omani capital is a city rich in history and culture. While there, we recommend you visit the Sultan Qaboos Grand Mosque where the interior will wow you as much as the exterior. This bustling city is a great port of call on your Middle East cruise and it's medieval, traditional and modern architecture is best seen by foot.
-->