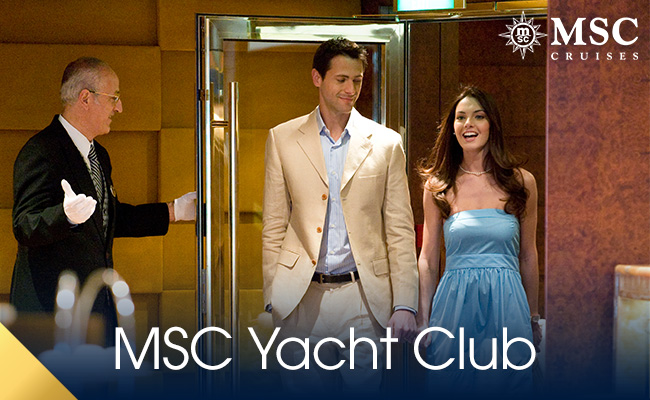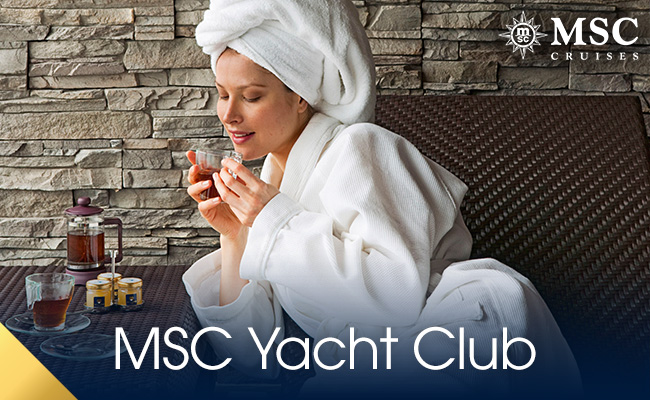 MSC Yacht Club
A haven of refinement, the MSC Yacht Club is a place where you can savor exclusivity. When you sail in the Yacht Club, you will get to experience a luxury ship, within a ship. Relax and unwind in your private club while also having access to the rest of the ship, the MSC Yacht Club is a cruise experience like no other.
Comfort Beyond Compare
Unwind on Egyptian cotton sheets, indulge yourself with your 24 hour butler service, enjoy a drink from your complimentary mini bar or take in the sites from your own private balcony. Sailing in the Yacht Club is like nothing else in the world.
Private Venues
When you sail in the Yacht Club, you not only get to enjoy luxurious accommodations and exclusive services, you will also get to enjoy a range of superb private facilities. The elegant Top Sail Lounge offers spectacular panoramic views and features a private restaurant. The Yacht Club restaurant is fine dining at its best and every meal served to you, will exceed all of your expectations. The One Pool Deck is a private area offering a private swimming pool, whirlpool bath, a sun deck and a bar.
Butler and Concierge
One of the main advantages of sailing in the Yacht Club is the round-the-clock butler and concierge service. While on you cruise, your 24 hour butler will be delighted to take care of you. MSC butlers are highly trained and are dedicated to assisting you in any way possible. The private concierge service is open day and night and the concierge team are there to help with any need you may have also. When you sail in the Yacht Club, every moment on board is all about you.
MSC Aurea Spa
As a guest of the MSC Yacht Club, you can enjoy a private lift to the Aurea Spa. A sanctuary of wellbeing and relaxation, this stunning spa gives you a serene environment where you can pamper yourself and you enjoy a selection of health and beauty treatments. Yacht Club guests have an exclusive massage and treatment room that they can enjoy discreetly.
Tailor-made Shore Excursions
MSC's incredible Yacht Club service extends beyond the ship boundaries in the form of shore excursions. As a Yacht Club member, you can not only select one of the current escorted tours, you can also create your own tailor-made shore excursions with the help of your butler and concierge team. This incredible and unique service is there to make sure that every port of call experience meets your expectations.
Exclusive Shopping and Extraordinary Excursions
As a Yacht Club guest, you will also get to enjoy exclusive services, not available to any other guest. As favourite among guests is the out of hours shopping in the onboard boutiques, accompanied by your butler. Stroll each boutique at ease or why not enjoy an exclusive jewellery viewing in your suite.
For more information on booking a Yacht Club cruise, call our Luxury Cruise Experts today on 01-8173558 or complete the contact form below.
-->