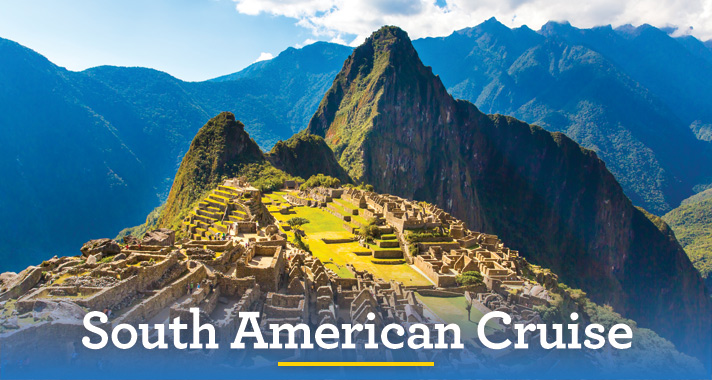 South American Cruise
South American Cruises take in the infamous rainforests of Brazil, the snow-capped Andes Mountains of Chile and the dramatic Argentine tango. In Rio why not join the beautiful people on Ipanema Beach, in Uruguay you can take to the saddle and ride through the surf and in Buenos Aires you can learn how to tango like a local.
South American Cruise Highlights
On a South American cruise you will discover one of the most dramatic coastlines in the world and you will get to sample the incredible attractions and cultures that makes these destinations so unique. Here are some highlights you can expect on a South American cruise.
Rio de Janeiro, Brazil
From amazing beaches like Copacabana to spectacular sights like the Sugar Loaf Mountain, Rio is full of attractions including the famous Christ the Redeemer statue, Tijuca National Park and Fiscal Island. With world famous carnivals, world-renowned beaches and world class football, Brazil is an exciting place to be.
Buenos Aires, Argentina
Buenos Aires is the famous home of both Eva Peron and the dramatic tango! Buenos Aires combines a cool European air with a hot South American soul. While there, take a stroll through its elegant streets and plazas; visit a tango house or explore the stylish Recoleta Quarter with its fashionable shops and world-class restaurants.
Chile
Chile is a country of startling contrasts and extreme beauty, with attractions ranging from the towering volcanic peaks of the Andes to the ancient forests of the Lake District. Chile is a long, narrow country stretching along South America's western edge, with 4,300km of Pacific Ocean coastline. Santiago, its capital, sits in a valley surrounded by the Andes and Chilean Coast Range mountains.
Punta Del Este, Uruguay
The very stylish Punta Del Este area of Uruguay is a real treat for those in need of some South American glamour and high class shopping. While there, enjoy the local culture as you stroll through the artists market, photograph your way around the city and capture the quirky architecture. If relaxing is more your thing, why not hang out at the beach for the day.
-->